Learn how to track parcels on your cell phone with the best app for both iPhone and Android, there are several tracking apps, but some are easier to use and more complete.
International, national and many other orders can be tracked all in one place with a simple click, the apps even notify each change in the tracking code making life much easier.
How to track parcels with the best app? 
To perform the tracking is very simple, just download the applications at the end of this post, and enter your tracking code and ready whenever there is an update you will be notified in real time.
iPhone Addiction Pack
With automatic checks every few minutes, you are aware of the movement of your orders sooner than you think!
• Faster overall notifications between tracking apps
• Free of advertisements!
• Unlimited packages, being possible to archive to keep history
• Visualization of movement details
• Widget for quick view
• App for Apple Watch.
• Delivery time and taxation statistics
• Barcode reader
• Export of tracking code and movements for easy sharing
• Automatic synchronization between all your devices via iCloud
• Access without login and password
• After copying a tracking code the application automatically suggests to add it
• History of movements even after the registration leaves the Post Office system
• Business days counter
• Offline access
• Map of last location
• 3D Touch Integration
• Visual adapted for any size of iPhone, iPad and iPod
Deliveries Package Tracker Android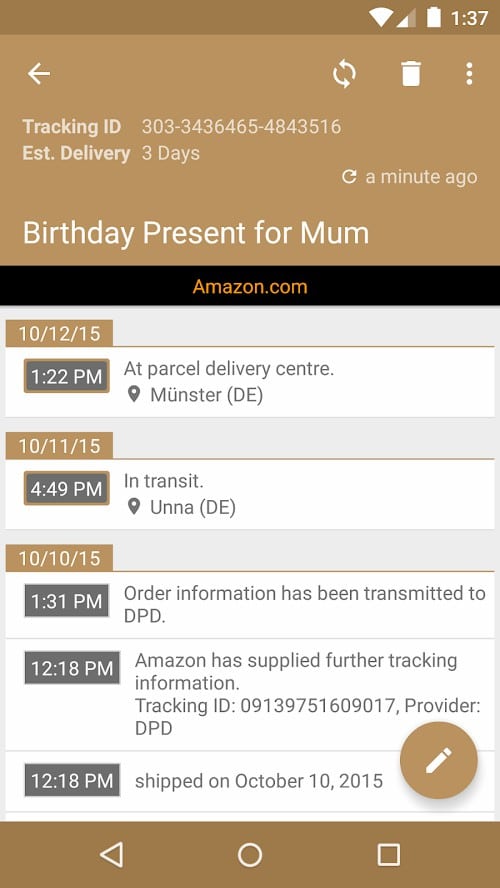 With "Deliveries" for Android you can centrally keep track of all your orders. Wherever you are, just add the delivery via the tracking code and check where it is. A click away!

Currently, the following providers are supported:
– Amazon
– An Post
– bpost / TAXIPOST
– BRT
– Chronopost
– City Link
– CitySprint (Amazon orders only)
– Collect+
– Courierit, CouriersPlease
- Mail
– Dawn Wing
– DHL, DHL Express International, DHL Global Mail
– DPD, DPD.co.uk
– eBay
– ELTA, ELTA Courier
– EMS Korea
– EWC Express
– Fastway
– FedEx
– Globeflight
– GLS, GLS.it
– Hermes, Hermes.co.uk
– Hunter Trading Group
– i-parcel
– International Bridge
- kuriero
– LaserShip
– LogoiX
– OnTrac
– Parcelforce Worldwide
– Post: Australia, Austria, Canada, China, Czech Republic, Denmark, Finland, France (La Poste), Germany, Hong Kong, Israel, Italy, Japan, Mexico (Mexpost), Moldova, Netherlands (PostNL), New Zealand, Norway, Singapore (SingPost), Sweden, Switzerland (Swiss)
– Prestige
– Purolator
– P&T Luxembourg
– Royal Mail
– SDA
– Seabourne Express
– SFS
– SkyNet
– Stadtbot
– StarTrack
– STL
– TNT, TNT Innight, TNT Fashion
– UPS
– USPS
– Yodel
- Full list: http://deliveries.oRRs.de